George Studios offers in-home or studio coaching, private lessons, and music instruction for beginner through advanced students. Jim George is an experienced and effective teacher and instructor in flute, piano, guitar (acoustic, electric, and classical), and voice. His Performance Coaching truly prepares people for being on stage.
To learn more about George Studios, contact Jim
Email: JimGeorge@georgestudios.com
Phone... (978) 535-4520
Custom Plan for Each Student youth through adult
Tailored to Student Preferences
Fun and Invigorating
Opportunities for Performance
Solo and Ensemble Recording
George Studios is located in West Peabody, Massachusetts, and offers quality private music lessons and performance coaching. Students benefit from cross-discipline experience and many years of successes.
In-home lessons are given in West Peabody and Topsfield. Studio Lessons are in West Peabody.
Improve band skills, prepare for performance, or just have fun solo or in groups!
Jim can also record and produce CD and MP3 audio of solo and ensemble music for demo or instructional use.
---
"THANK YOU again and again for being the best music teacher ever!" N.P. -Ipswich
"Thank you so much for all that you did for Andrew [lead singer of Stronghold in Siam]. He has improved so much..." A & E M. -Topsfield
"Thank you, Jim, for the inspiration and encouragement you give ... They love the new skills and talents they are uncovering with their music lessons. We all know what a gift music is for our souls. So Thank you!!" K.F. -Topsfield
"But I really wanted you to know how absolutely elated Andrew was ... Thank you for bringing such happiness into our lives." T.B. -Topsfield
"... such a positive impact on one's life... you are one of those special people." N.G. -Topsfield
"First thing this morning I heard him practicing and he said he can't wait until his next lesson. ... my older son now wants to take piano lessons!" L.T. -Topsfield
"Jim, I am grateful to you ... we can all benefit from your leadership." B. V-J -Ipswich
---
Piano lessons, keyboard lessons
Guitar lessons, Acoustic Guitar, Classical Guitar, or Electric
Flute lessons
Vocal and singing lessons
Performance Coaching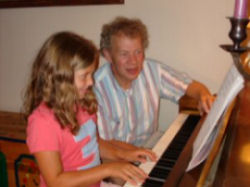 Jim George, ASCAP
2019 - Call for more information and schedule availability
Enjoy getting better all the time - feel the improvement! Beginner through late intermediate welcome. Call for more information!
Fun...
If it isn't fun in some way, learning is, well, a chore. I try to find the way that is fun for the student. That's why all lessons are customized. There are many other factors to getting better, and I'm sensitive to these. I've been told I'm not a typical music / instrument 'teacher,' and I'm glad of that. Many of my students have had lessons before, and stopped due to the 'teacher.' Any student that doesn't continue with me just doesn't want to play the instrument, and that's fair. The students decide where their fun is. The students who do continue, well, they are getting quite good at what they want to do - it's my job to help get them there. So come have fun!
[The Gamer's Challenge- try to get to the next level on an instrument!].

Affiliates and Helps
Recent Performances
In a Pig's Eye - Salem
St. Paul's Episcopal Church - Lynnfield
First Church - Ipswich
Christ Church - Hamilton-Wenham
Caldwell Retirement Center
Wingate Village - Andover
Ineffable Productions, Ineffably Sublime Music